Contrary to popular belief, shoulder problems stem from more than just injury and overuse. Age, diet, genetics, and chronic inflammation can contribute to shoulder problems. If not treated properly, these conditions can lead to chronic pain and dysfunction. Fortunately, Dines Orthopedic can help treat many of these problems. When surgery is necessary, you want to make sure you consult with the experts. Our team at Dines Orthopedic has performed thousands of procedures, so you are in good hands.
David Dines, MD & Joshua Dines, MD provide a broad range of Orthopedic Sports Medicine services. Both are attending surgeons at the Hospital for Special Surgery (HSS) in New York City.
David Dines, MD, has built his practice based on decades of clinical experience and research focusing on the shoulder and related injuries. He is the Medical Director for the ATP World Tennis Tour and has operated on thousands of shoulders throughout his career while publishing many of the most important research articles and textbooks on shoulder surgery.
Joshua Dines, MD provides a full range of Sports Medicine services, including surgical and non-surgical treatments for injuries to the shoulder, knee, and elbow. He works with the NY Mets and NY Rangers as well as college athletes, high-school athletes, weekend warriors, and those patients just looking to get back to performing their everyday activities without pain. Together, Dines Orthopedics offers offices in two convenient locations in New York City the Hospital for Special Surgery and in Uniondale Long Island, offering their patients surgical and non-surgical options in both locations.
If you have injured your shoulder and need help recovering, the team at Dines Orthopedics is here for you. We provide shoulder pain treatment in NYC for a wide variety of injuries and conditions. When you need shoulder pain relief you can count on the expert at Dines Orthopedics. We have decades of experience in the treatment of shoulder muscle pain.
Meet Our Manhattan Shoulder Pain Specialists
Accepted Insurances
Oxford/United
BCBS
Cigna
Aetna
Emblem GHI
Emblem HIP Prime and Access plans
*Even if we do not participate with your specific plan, seeing our providers as an out-of-network patient is often possible and our staff is trained to assist you through the process.
*Please note that Joshua Dines, M.D. & David Dines, MD does not accept Medicare or Medicaid.
*We do not accept Workman's Compensation or No Fault Insurance
*Self Pay Patients: Payment is due at the time of service.
For Credit Card Payments: Please call (516) 482-1037, select option 6 and ask for Linda.
Understanding and Treating Shoulder Pain: How Dines Orthopedics Can Help
The shoulder is a complex joint that utilizes several muscles and tendons to operate properly. Shoulder issues can arise in a myriad of ways including sports injuries, overuse injuries, and even improper posture or sleep position can lead to pain or discomfort in the shoulder joint. Shoulder pain is a common ailment that affects people of all ages and walks of life. Whether you're a Manhattan office worker in Midtown or a Midtown sports enthusiast, shoulder pain can disrupt your daily activities and quality of life. The good news is that there are effective treatments available to relieve your pain and help you regain mobility. Dines Orthopedics is an experienced shoulder pain doctor in Manhattan, our staff will provide the best shoulder pain treatment for your injury.
Common Causes of Shoulder Pain
Shoulder joint pain can be attributed to a wide range of factors. Causes of shoulder pain include: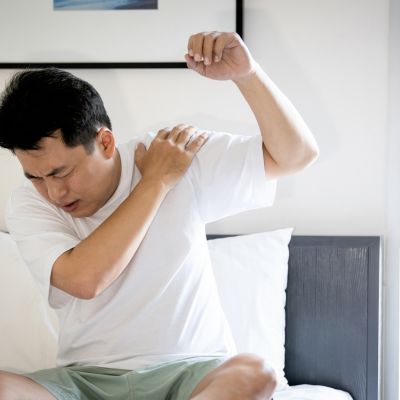 Rotator Cuff Injuries: The rotator cuff is a group of muscles and tendons that surround the shoulder joint. Injuries to these structures can result in acute or chronic shoulder pain, often due to overuse, aging, or traumatic events.

Frozen Shoulder (Adhesive Capsulitis): This condition causes stiffness and pain in the shoulder joint, limiting its range of motion. It typically develops gradually and can be quite debilitating.

Shoulder Impingement: Impingement occurs when the shoulder's tendons or bursa become pinched or compressed, leading to pain and reduced mobility.

Overuse and Repetitive Strain: Engaging in activities that require repetitive motion of the shoulder, such as throwing a baseball or swimming, can lead to overuse injuries and pain.

Inflammation and Pain: Inflammation in the shoulder joint and surrounding tissues can cause significant discomfort.

Referred Pain: Sometimes, pain in your shoulder can actually originate from other areas, such as the neck or upper back, and radiate to the shoulder.

Trauma and Fractures: Accidents or falls can result in fractures or dislocations of the shoulder, leading to severe pain.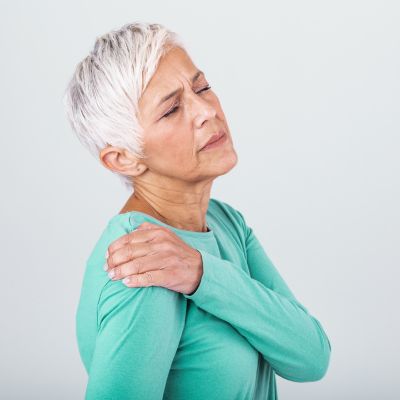 If you're experiencing shoulder pain, it's essential to consult with a specialist to determine the cause and appropriate treatment. Orthopedic doctors, pain specialists, and pain management professionals in Midtown Manhattan are skilled in diagnosing and treating shoulder pain. They may employ various diagnostic methods, including physical examinations, imaging studies, and discussions about your symptoms and medical history.
Treatment Options for Shoulder Pain
Once your shoulder pain is diagnosed, the next step is to explore your treatment options. There are many types of shoulder muscle pain treatment including:
Conservative Treatment Methods: Many cases of shoulder pain can be managed with non-surgical approaches, such as rest, ice, and anti-inflammatory medications. Physical therapy plays a crucial role in rehabilitating the shoulder and reducing pain. A skilled physical therapist can design individualized treatment plans and teach you simple shoulder exercises to improve mobility and strength.

Interventional Pain Management: If conservative treatments are not sufficient, interventional pain management techniques may be employed. These include injections of corticosteroids to reduce inflammation and relieve pain.

Shoulder Surgery: In some cases, surgical intervention may be necessary, especially for severe shoulder injuries, fractures, or conditions that don't respond to other treatments. Orthopedic surgeons in NYC specialize in various forms of shoulder surgery to address these issues.
Preventing shoulder pain is essential, particularly if you're prone to overuse of the shoulder joint due to sports or work-related activities. Practicing good posture, proper body mechanics, and taking regular breaks can help reduce the risk of injury. Additionally, maintaining good overall shoulder mobility and strength through regular exercise can contribute to a healthier and pain-free shoulder.
When it comes to shoulder pain, whether it's acute or chronic, the best treatment options will depend on the cause and severity of your condition. If you experience shoulder pain in Midtown Manhattan, it's recommended that you seek consultation with a pain relief specialist for the shoulder who can provide an accurate diagnosis and develop an individualized treatment plan to address your specific needs.
Shoulder muscle pain is a common issue that can significantly impact your quality of life. With the help of Dines Orthopedics, pain specialists, and physical therapists, you can find relief and regain optimal shoulder mobility. Remember that early diagnosis and prompt treatment are crucial in preventing the progression of shoulder injuries and conditions.