Dr. David Dines is a world-renowned shoulder surgeon who is a former President of the American Shoulder and Elbow Society and has been honored as one of the Best Doctors in America and in New York since 1996. He has written numerous articles and textbooks on the subject of shoulder surgery and has given hundreds of lectures nationally and internationally on the subject of shoulder surgery and sports medicine.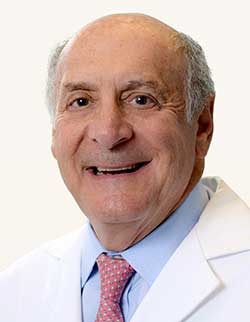 He is one of the foremost authorities on shoulder arthroplasty in the world. He has performed thousands of shoulder replacements, including live surgeries to teach other orthopedic surgeons in the U.S. and abroad. Dr. Dines is a developer of the Biomet Biomodular Total Shoulder System, one of the most popular systems used today.
Dr. Dines has extensive experience treating professional athletes. He is currently the Medical Director of the Association of Tennis Professionals (ATP Tour) and has been the U.S. Davis Cup Tennis Team Physician since 2000. He is the Medical Director for the LI Ducks Minor League Baseball team and an orthopedic consultant for the US Open Tennis Tournament. Previously he served as the Associate Team Physician for the New York Mets Baseball Team.
Academically, David Dines is a member of the Sports Medicine Institute at HSS and is a Clinical Professor of Orthopedic Surgery at Weill Cornell Medical College. Previously he served as Chairman and Professor of Orthopedic Surgery, Albert Einstein College of Medicine at Long Island Jewish Medical Center. He is very active in research, winning the Neer Award for Shoulder Research in 2004 and being nominated 3 times since.
Request an appointment with David M. Dines, MD
Dr. Josh Dines is a great surgeon who's so down to earth and treats you like family. He's operated on my daughter and myself twice. If you need any surgery on your knees or shoulders, don't hesitate to call him.
You will never find a doctor that is more experienced and knowledgeable than David Dines. I went to my visit fearing the worst and left feeling hopeful and relieved. Dr.Dines gave me options and ideas while thoroughly explaining my injury in terms that I could understand. Skip the rest and go to the best.
Most professional and well organized medical office you will ever encounter. Never waited in waiting room more than 5 minutes. Ever. As for Dr Dines, he is simply the best. Don't know what else to say.
I am 4 weeks out form a complete shoulder replacement by Dr. David Dines. I could not be happier or more grateful for how well I am doing. All arthritic pain is gone, and I am ahead of schedule in my recovery. I had minimal to no pain, never took an opioid, and slept in my bed on my first day home. I would highly recommend Dr. Dines and HSS to anyone considering having their shoulder replaced.